Go where to eat noodle in Jaya One? GO Noodle House la. GO Noodle House is a new noodle shop in The School, Jaya One, located next to the Korean restaurant, Kimchiharu, but the entrance is at the back. GO Noodle House specializes in Mi Xian (thick noodles) in special broth, which you can choose from either superior soup or home made spicy soup.  You can also choose Bee Hoon noodle if you prefer Bee Hoon but the waiter recommend us to go with their special Mi Xian (thick noodle).
What is special here is that you can buy bottles of Hua Diao Chinese Wine (花雕酒) to go with the soup noodles as well.  GO Noodle is also decorated in an ancient Chinese ambience.  What can be more perfect than a hot bowl of noodle with Hua Diao wine and an ancient Chinese ambience?  GO Noodle House is just opened yesterday and we manage to come here for dinner.
Update: Go Bun House has just opened in front of Go Noodle House. You can now order from each other and enjoy both bun and noodle together.

This is my friend pouring the five years wine into the spicy noodle.

This free snack is called Gold Coin, made from pork.  Not sure snack will be free until when, so faster go GO Noodle House to try their noodle.

The bottles of Hua Diao wine.  These two are given by the waiter to seduce us to buy the wine.  The smaller bottle are 5 years wine (RM 39.90) and the bigger bottles are 3 years wine (RM 29.90).  Personally I prefer the 5 years Hua Diao wine as the aroma is stronger.  You can buy a bottle and store the wine in the shop for next visit.

My pork ball soup noodle is here.  Served in a Chinese bowl and a big spoon.

View from the top.  The chili is perfect to go with the pork balls.  Add Hua Diao Wine to further enhance the taste

Laupoh ordered a vegetable soup.

A closer look on my pork balls.  There are five of them.  The noodle, the soup and the balls are all very nice eaten together.  The pork balls are very chewy and flavourful.

This bowl of home made spicy soup noodle is my friend's.  Ordered with pork balls as well.

This is my grouper fish slice noodle, on my second visit.  The fish tasted fresh and juicy as well and don't have any fishy smell.

This bowl of noodle is the frog Bee Hoon during my third visit.  The frog is fresh and juicy.  I think there is one whole frog inside.

The chili sauce provided is spicy enough to make me sweat but it is so fragrant and dramatically enhance the taste of my pork ball, grouper fish and frog.

Some ancient Chinese decoration in the GO Noodle House restaurant.

The premium wine section in exotic looking bottles.  Not sure if I will have the chance to taste them.

The wine collection of the customers.  You can buy and store it here for next visit.  Don't forget to write your name on the label.

Another view of the wine corner.

The Chinese words translated as Number One Noodle in this world.

The are many different sizes of wine bottles here.  Not sure the big ones have any wine inside?

Shiny shiny reflective Hua Diao wine bottles.

World's Number One Noodle with the Chinese menu plates.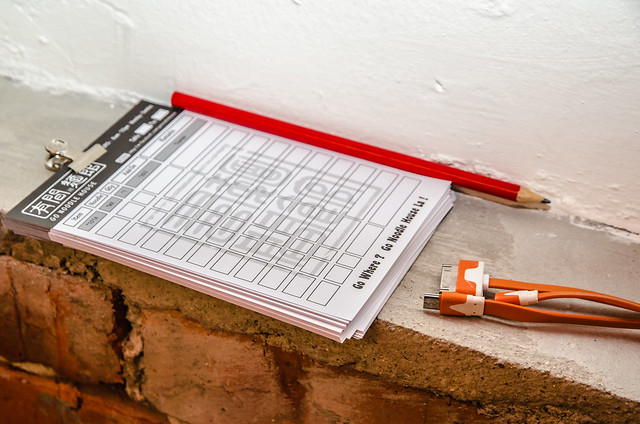 Cables are provided to charge your phone or tablet so that you can continue to Facebook or read my blog while enjoying the noodle.

A corner in GO Noodle House.  Wooden tables and chairs with many Chinese decoration on the wall.

Tied noodles on the brick walls.  Didn't get to taste them if they are real.

You may polish your shoes here before or after enjoying your noodle soup.

Chinese door decoration opposite the entrance.  According to the waitress, GO Noodle will extend their shop to the here.

Click for larger version
The first page of the GO Noodle House's menu.  The first page talk about the history of the secret recipe for the noodle soup.  Long long time ago, KangXi Emperor's visit to the South.  He ordered a noodle soup and Hua Diao Chinese Wine.  He then got the idea of adding the wine to his bowl of noodle and loved the combination and conferred the chef as Best Noodle in the World.  KangXi Emperor then return to his palace and ordered his chef  to make the noodle as a part of imperial cuisine.  After the fall of Qing Dynasty, the chefs went around and setup restaurants.  This is how the secret recipe has passed down.  So you are actually eating imperial cuisine!
As shown in the menu as well, you can choose from Mi Xian or Bee Hoon and go with a few kind of ball, such as pork ball, fish ball, squid ball and bursting meat ball.  There are also fish paste with and without bitter gourd, pork belly slice and premium beef slice.

Click for larger version.
In the second page of the menu, you can choose from a wide range of seafood such as prawn, song fish, grouper fish and clams.  There is also frog and scallops.  If you feel one type of meat is not enough, you can add-on other meat as well.  There is also this family feast, which is a better choice to try more than one type of ball or meat.

Click for larger version
Don't feel like eating mi xian or bee hoon?  GO Noodle also sells homemade pan mee.  The soup choices are same but you can go for dried pan mee as well with Trio Special Dark Sauce, spicy or non-spicy.  And of course, there are ala carte too for sharing or you just want something light.

Click for larger version
In the last page of GO Noodle menu, you can order some snacks while waiting for your hot bowl of noodle. There are also the choices of beverage in this page.
Business / Opening Hours: Everyday except Saturday from 11.30 am to 9.30 pm.
Facebook
https://www.facebook.com/gonoodlehouse/
Address
61-P1 The SCHOOL
JAYA One, Jalan Universiti
Petaling Jaya, Malaysia
Phone 03-7499 1126
Email gonoodlehouse@gmail.com
From other bloggers and websites:
Ohfishiee
Penang Foodie
Saimatkong
According to says.com, Go Noodle House is opening their first overseas outlet in Melbourne in December 2017!
This blog post is from their first outlet in Jaya one. Currently, they have so many outlets already and most of them have very long queue during lunch and dinner time:
The other outlets of Go Noodle House:
Selangor:
Jaya One – 61-P1, Block D (Entrance C), Jaya One
1 Utama – LG-308, New Wing
Da:Men Mall, Subang – LG-06, Level LG
Sunway Pyramid – OB.K9, Ground Floor, Oasis Boulevard
Pearl Shopping Gallery – Lot 1-14A, Level 1
Gamuda Walk – Lot L1-23, Level 1
the Starling – Lot B-018, Level B1
iOi Mall, Puchong – FS12-14, Food Street, Level 1, New Wing
Setia City Mall – UG-28, Level UG (Car Park P3)
Kuala Lumpur
Publika, Solaris Dutamas – Lot A2-1-1, Level 1
Mid Valley Megamall – LG-059, South Wing
Sunway Velocity – B-29C & 29D, Level B1
Pavilion KL – Lot 1.29.04
Avenue K – Lot L1-18, Level 1
Lowyat Plaza – Lot 005 & 005A, Ground Floor
Penang
Gurney Plaza – 170-07-02/03 (near GSC)
Queensbay Mall – Lot 3F-01(A), Level 3, Queens Street, North Zone.
Pahang – They even have an outlet at Genting Highlands!
Sky Avenue, Genting Highlands – T2C-37, Level 4
Johor
JB City Square – Coming soon in October