Feast @ Sheraton Petaling Jaya is a dining restaurant in Sheraton Petaling Jaya Hotel. We came here for its international Christmas buffet last week for our company dinner. I think this hotel is very new, just opened this year for business. How is our experience eating buffet at this new hotel in Petaling Jaya? Reads on to find out about our feasting at the Feast. Watch the video below for some clips we shot during the buffet dinner.
Seafood at Feast @ Sheraton Petaling Jaya Hotel
When come to eat buffet, we always target the most expensive food. Normally the most expensive food are the seafood. There are three types of prawn here on the ice at Feast @ Sheraton Petaling Jaya. The standard big prawn we normally cook as dishes, the bigger prawn which I think is yabby, and the biggest prawn which I think is baby lobster. Please correct me if I'm wrong in identifying the crustaceans. They are very fresh and yummy and I actually ate a lot of them.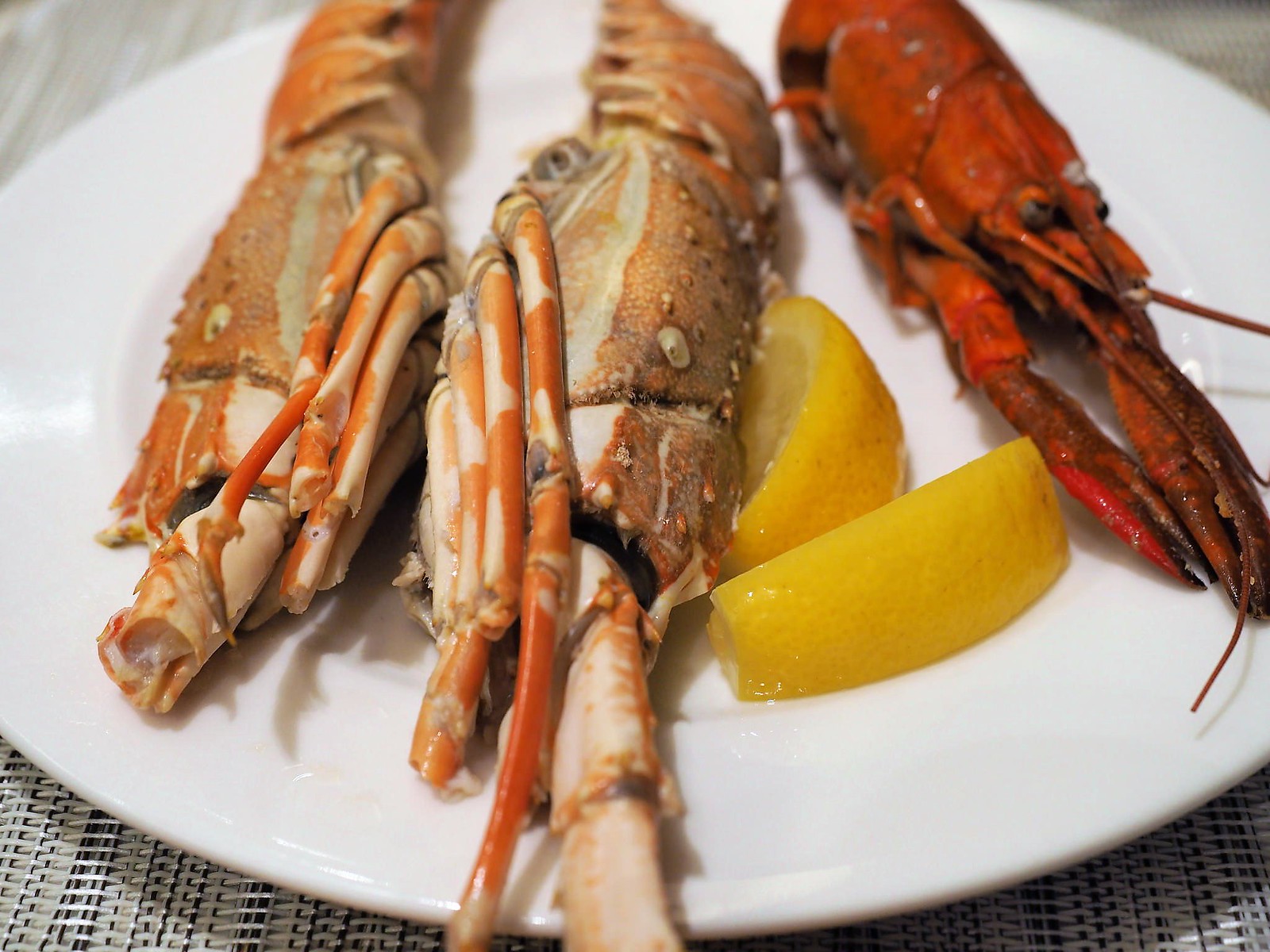 My first plate of seafood, baby lobster and one yabby. The baby lobster is cut into half, so you are looking at one baby lobster in the photo above. One only not enough, so move on the second plate.

My second plate of seafood at Feast @ Sheraton Petaling Jaya. Two yabbies and one baby lobster. Add some lemon to enhance the taste. Add some tomatoes and capsicum to reduce the guilt of eating too much high cholesterol seafood.

A closer look on the yabby. Actually I cannot tell the differences between yabby and crawfish. Or maybe this one is not even yabby or crawfish? Never mind, as long as it is fresh and delicious.

Another photo of the fat and chubby yabby. It is quite challenging to extract the meat from yabby, compared to normal prawns. Lobster is not a problem because it is already cut into half.

The baby lobster's meat is very tender and sweet. No wonder the guests keep getting this one non-stop. Luckily, the refill is quite fast.

Here are the baby lobsters on ice. The refill is non-stop. Once it is almost empty, the staff at Feast @ Sheraton Petaling Jaya will fill up the baby lobster again.

All the fresh yabbies arranged nicely on the ice, with the normal prawns next to them.

There are also normal prawns here. But, I only ate the yabby and baby lobster.

My third plate of buffet. The scallop, roasted duck breast, chili crab, lamb satay, beef satay, prawn and broccoli.

Another one of my favourite dish at Feast @ Sheraton Petaling Jaya, the steamed scallop. I think I ate three of the scallops.

A closer look on the big scallop. Very fresh, chewy and yummy as well.

Mussels on ice are also available here at Feast @ Sheraton Petaling Jaya. However, mussels are not my personal favourite food.

This is chili soft-shell crab. Very delicious too but I only ate half crab to keep stomach space for other delicious food.

Fried version of soft-shell crab, didn't get to try this. I wonder why there is no soft-shell crab on ice. Let'malas move on to the meat and fish at Feast @ Sheraton Petaling Jaya.
Meat and Fish at Feast @ Sheraton Petaling Jaya Hotel

Since it is Christmas, roasted turkey is available. I took the turkey breast which is very tender, moist and not dry. Every bite is very satisfying.

Another photo of the roasted turkey at Feast @ Sheraton Petaling Jaya

I ate 3 slices of turkey breast since they are so yummy. Remember to eat with the special sauce beside the turkey.

Roasted beef at Feast @ Sheraton Petaling Jaya with curly fries. Both the beef and curly fries are very yummy.

Another photo of the roasted beef during our buffet at Feast @ Sheraton Petaling Jaya.

The roasted duck and roasted chicken. I only try the duck.

This piece of roasted duck breast is so juicy and tender.

I also tried those big chunk of aromatic lamb and beef satay at Feast @ Sheraton Petaling Jaya. Recommended as well.

Another photo of the satay (seasoned, skewered and grilled meat).

I'm not sure which plate is this already since I keep eating. The lamb chop, salmon and roasted beef. The lamb chop and the salmon are recommended here.

I think this is cured duck breast. Didn't try this.

Maybe this one is cured chicken meat. Also didn't try this. Must keep some space in stomach for desserts below, since I haven't mastered the art of storing desserts in my heart.
Dessert and drinks at Feast @ Sheraton Petaling Jaya Hotel

For dessert, I started with this glass of beautiful Tiramisu. On top are sour cherries and a layer of bitter coffee jelly in the bottom. Recommended to eat the sour cherry, the tiramisu and the bitter coffee jelly together to get the heavenly taste.

A closer look of the glass of tiramisu. Wanted to eat another glass and in the end decided to try the ice cream.

A few glasses of tiramisu in the transparent door fridge.

More desserts in glass in the transparent fridge.

Another type of dessert in glass. Took photo only, I did not eat another glass of dessert.

I guess Santa and the Snowman made this cake with lots of snows, until their body also got snows.

Beautiful carrot cake with strawberries on top.

Chocolate cake with strawberry and cream balls on top. Not sure what is the full name of this cake.

Another cake decorated with Christmas theme.

Some chocolate round cakes, not sure about the name.

Overview of the chocolate fountain area at Feast @ Sheraton Petaling Jaya.

Swiss Roll, Carrot Cake and Cream Brulee. I actually did not eat any of the cake since my stomach has reached the full capacity.

The ice cream chef, my favourite guy of the night.

My fried ice cream. Mix of banana and green tea flavour.

Choices of ice cream at Feast @ Sheraton Petaling Jaya

Those are detox drinks to detox our body after all the food intake.

Coffee machine at the buffet restaurant. Not a coffee person myself.

Apple and other fruits for the vitamins.

Local Malay kuih are also available here such as karipap (curry puff).
Other food of Feast @ Sheraton Petaling Jaya Hotel

Japanese fresh sashimi section at Feast @ Sheraton Petaling Jaya. Got salmon, tuna and cuttlefish.

Sushi at the Japanese section. I normally skip the sushi at buffet.

I think this is the cured meat section.

Pizza at the Italian section. I skipped this one too.

All types of breads at the Italian station. Normally I would skip bread too at buffet.

Fried wantan and tempura. I prefer seafood, sashimi and grilled food at buffet, so I skipped those too.

Lamb, mussels, salmon, prawn and chicken. If you don't eat sashimi or seafood on ice, I guess this is the section for you.

Green Pea Pulao and Curry Fish next to it.

Steamed Patin Fish, Village Style.

Braised Tau Kan with Mushroom and Broccoli. Next to it is not sure what style prawn.

3 chefs preparing food for the hungry guests.
Feast @ Sheraton Petaling Jaya's environment

After all the food and dessert, let's take some photos of Feast @ Sheraton Petaling Jaya's interior. I like the high ceiling in the restaurant.

Christmas decoration on the table next to our table. Not sure why our table does not have Christmas decoration.

Long dining table for big group. I think there were two other companies' dinner beside ours on that day.

A round dining table if your buffet eating group is not very big.

Another angle of the Christmas decoration on the dining table at Feast @ Sheraton Petaling Jaya.

More dining tables at Feast @ Sheraton Petaling Jaya.

This dining table has comfy sofas for guest.

The lobby of Sheraton Petaling Jaya Hotel.

Spotted this comfy looking sofa at the lobby of Sheraton Petaling Jaya Hotel.

The guests at Feast @ Sheraton Petaling Jaya, showing the food sections area.

The spacious dining place in Feast Sheraton Petaling Jaya.

Spotted this nice photo on the way to the washroom.

Let me end this post with this photo of beautiful wooden wall in the Feast @ Sheraton Petaling Jaya.
For RM 128, I would say the price is worth it since there are a lot of fresh seafood and yummy meat. There are different types of cakes, desserts and ice cream. Definitely one of the choices if we are going to eat buffet again in the future.
Visit the Facebook  of Feast @ Sheraton Petaling Jaya for Christmas and New Year promotions.
Loves buffet or eat all you can style? Click here to visit my buffet posts and click here for my eat all you can posts.
Facebook: https://www.facebook.com/sheratonpetalingjaya/
Website: http://www.starwoodhotels.com/sheraton/property/dining/index.html?propertyID=4126&language=en_US
Address
Jalan Utara C.
46200 Petaling Jaya, Malaysia.
Telephone number: 03-7622 8888
From other websites and bloggers:
Trip Advisor